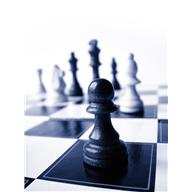 Strategic Development Plan  
A personal Strategic Development Plan is a systematic approach to achieving goals and increasing personal effectiveness.
The initial step in the creation of the plan is to set tangible goals that are both challenging and rewarding. In addition to setting goals, strategic development involves crafting a plan for reaching those goals, developing skills, and creating positive habits. A successful strategic plan will also include elements of mental conditioning to help build self-esteem, self-confidence, and other positive mental attitudes.
Goal Setting
As indicated above, creating a strategic plan begins with setting personal goals. Setting personal goals starts with your lifetime goals which are followed by a series of lower level goals and objectives. The series of goals and objectives should continue until you have a list of daily tasks. By setting up this structure, you are able to break down life goals into a number of small tasks that you need to do each day to reach those lifetime goals. In addition, by setting a series of objectives, you gain a long-term perspective and a deeper purpose for each daily task. Your enthusiasm and self-esteem will increase every time you achieve a milestone towards the long-term goal.
Habits
In addition to setting goals, the plan should also include a strategy for attaining or developing specific skills, competencies, and abilities that are needed to reach the goals that have been set. Developing positive habits and a positive mind set is also an essential piece of the plan. By developing both of these you will increase your personal effectiveness which will assist in reaching those goals.
These are all essential parts of the Strategic Plan or of any personal development plan. Similarly, if you were to plot a trip to a far destination, you would also need a plan for maintaining the vehicle used to travel. By developing skills and creating habits, you will reach your goal destination easier and more productively.
"Things which matter most must never be at the mercy of things which matter least." – Johann Wolfgang von Goethe
Crafting a Strategic Development Plan
Start by setting lifetime goals. You should maintain at least one clearly defined goal for every Life Dimension or aspect in your life. You can set lifetime goals by envisioning what you ultimately want to achieve in various facets of your life. After which, set additional long-term goals by envisioning what you want to be doing and where they want to be five to ten years from the present. Then use short-term goals to get there.
After you set your goals, think about what skills or abilities you want or need to develop to reach your goals. Create a plan for acquiring or enhancing these skills and/or abilities. Your list may include such skills as leadership, problem solving, decision making, presentation, or typing.
After you have identified skills to develop or enhance, establish habits you wish to maintain and actively pursue the mastering of these behaviors. Creating habits is not only extremely helpful in achieving your goals, but also in becoming the person you want to become. Habit creation may include such behaviors as eating healthier, exercising daily, or simply saying "thank you".
Lastly, it is essential to include elements of mental conditioning in your plan because it is our mental attitudes and beliefs more than our talents and abilities that determine our successes. Mental conditioning can include techniques for focusing, positive thinking, and mental toughness.
"Inspire yourself and others will be inspired. Motivate yourself and others will be motivated. Develop yourself and others will start to develop themselves. Be an example first and then the world changes around you." – Author Unknown
Goal Setting
Skill Enhancement
Habits Creation
Mental Conditioning
"The best way to predict the future is to create it." – Peter Drucker