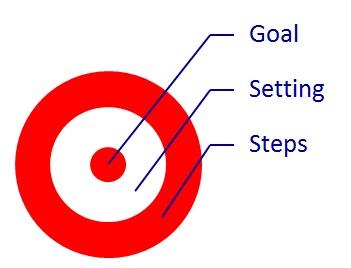 Goal Setting Outline
Set Lifetime Goals
When setting goals, start with your lifetime goals and work back towards your provisional (short-term) goals.  For example, the lifetime goal may be to win the war.  The transitions goals would be to win specific battles.  The foundational goals would be to win certain positions.
Take the first key step toward reaching your vision, by identifying your lifetime or Life Dimension goals.
Identify and then focus on specific, tangible targets for what you want.

Maintain at least one clearly defined goal for every major interest and role in your life.
Life Dimension Sheet or Life Goal sheet
Set Capstone Goals
After you set your Life Dimension goals, set capstone (intermediary) goals that will lead you to your desired goals.
Complete a goal sheet
 Set your goals so they are directly aligned with your life's mission, purpose, and passions.

 Create goals high enough to ignite your spirit and inspire you to take action.

Write down all your goals in specific, measurable detail with declared target dates.
Set Foundational Goals

    
After you set your capstone goals, set foundational (short-term) goals that will help build a foundation for your lifetime goals.
Set Provisional Goals
Lastly, set a whole series of related daily, weekly and monthly goals, complete with starting times and completion dates.  These are provisional goals.  
Lists task associated with achieving the goal

Review the objectives to see if they can also be individual goals.

Change objectives or tasks into goals on a separate goal sheet.