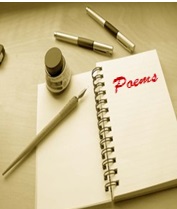 Inspirational Poems
If
by Rudyard Kipling
If you can keep your head when all about you
Are losing theirs and blaming it on you;
If you can trust yourself when all men doubt you,
But make allowance for their doubting too:
If you can wait and not be tired by waiting,
Or, being lied about, don't deal in lies,
Or being hated don't give way to hating,
And yet don't look too good, nor talk too wise;
If you can dream – and not make dreams your master;
If you can think – and not make thoughts your aim,
If you can meet with Triumph and Disaster
And treat those two impostors just the same:.
If you can bear to hear the truth you've spoken
Twisted by knaves to make a trap for fools,
Or watch the things you gave your life to, broken,
And stoop and build'em up with worn-out tools;
If you can make one heap of all your winnings
And risk it on one turn of pitch-and-toss,
And lose, and start again at your beginnings,
And never breathe a word about your loss:
If you can force your heart and nerve and sinew
To serve your turn long after they are gone,
And so hold on when there is nothing in you
Except the Will which says to them: "Hold on!"
If you can talk with crowds and keep your virtue,
Or walk with Kings – nor lose the common touch,
If neither foes nor loving friends can hurt you,
If all men count with you, but none too much:
If you can fill the unforgiving minute
With sixty seconds' worth of distance run,
Yours is the Earth and everything that's in it,
And – which is more – you'll be a Man, my son!
If I Can Stop One Heart From Breaking
by Emily Dickinson
If I can stop one heart from breaking,
I shall not live in vain;
If I can ease one life the aching,
Or cool one pain,
Or help one fainting robin
Unto his nest again,
I shall not live in vain.
Hope Is The Thing With Feathers
by Emily Dickinson
Hope is the thing with feathers
That perches in the soul,
And sings the tune–without the words,
And never stops at all,
And sweetest in the gale is heard;
And sore must be the storm
That could abash the little bird
That kept so many warm.
I've heard it in the chillest land,
And on the strangest sea;
Yet, never, in extremity,
It asked a crumb of me.
Barter
by Sara Teasdale
Life has loveliness to sell,
All beautiful and splendid things,
Blue waves whitened on a cliff,
Soaring fire that sways and sings,
And children's faces looking up
Holding wonder like a cup.
Life has loveliness to sell,
Music like a curve of gold,
Scent of pine trees in the rain,
Eyes that love you, arms that hold,
And for your spirit's still delight,
Holy thoughts that star the night.
Spend all you have for loveliness,
Buy it and never count the cost;
For one white singing hour of peace
Count many a year of strife well lost,
And for a breath of ecstasy
Give all you have been, or could be.
Allow Yourself
by Catherine Pulsifer
Allow yourself to dream,
And when you do dream big
Allow yourself to learn
And when you do learn all you can
Allow yourself to laugh
And when you do share your laughter
Allow yourself to set goals
And when you do reward yourself as you move forward
Allow yourself to be determined
And when you do you will find you will succeed
Allow yourself to believe in yourself
And when you do you will find self confidence
Allow yourself to lend a helping hand
And when you do a hand will help you.
Allow yourself relaxation
And when you do you will find new ideas.
Allow yourself love
And when you do you will find love in return
Allow yourself to be happy
And when you do you will influence others around you.
Allow yourself to be positive
And when you do life will get easier.
What Might Have Been
By Hazel Lee
I held a moment in my hand,
Brilliant as a star,
Fragile as a flower,
A shiny silver out of one hour.
I dropped it carelessly.
Oh God! I knew not
I held opportunity.
Daffodils
by William Wordsworth
I wandered lonely as a cloud
   That floats on high o'er vales and hills,
When all at once I saw a crowd,
   A host, of golden daffodils;
Beside the lake, beneath the trees,
Fluttering and dancing in the breeze.
Continuous as the stars that shine
   And twinkle on the Milky Way,
They stretched in never-ending line
   Along the margin of a bay:
Ten thousand saw I at a glance,
Tossing their heads in sprightly dance.
The waves beside them danced, but they
   Out-did the sparkling waves in glee:
A Poet could not but be gay,
   In such a jocund company:
I gazed—and gazed—but little thought
What wealth the show to me had brought:
For oft, when on my couch I lie
   In vacant or in pensive mood,
They flash upon that inward eye
   Which is the bliss of solitude;
And then my heart with pleasure fills,
And dances with the daffodils.
Footprints
Frothy waves stretch to kiss toes
Hikers plodding sandy coasts
Leaving imprints on the shore
Who journeyed here, perhaps this morn
As the orange orb created dawn
Summoning sun worshipers
Footprints far too large to fill
Descended down the shell-strewn hill
Then hugged the waves' low tide
The retirement community
Sends scouts here daily just to see
If the sands of time still wait
Alas, they do, imprints remain
Sacrificed to sea when evening tide returns again
Their legacies erased each day
Another scout, another age
Will surely cast its prints anew
Ode to Googlebot
By Will Edwards
Oh Googlebot though art quick !
The invisible spider
that crawls in the night,
through the howling scorn,
Hath (finally) found my bed
of blue and orange joy.
And his dark secrets found
doth now life bestow.
Dreams
by Langston Hughes
Hold fast to dreams
For if dreams die
Life is a broken-winged bird
That cannot fly.
Hold fast to dreams
For when dreams go
Life is a barren field
Frozen with snow.