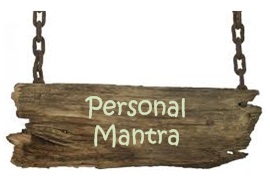 Personal Mantra
A personal mantra is an affirmation to motivate and inspire you to be your best self. It is typically a positive phrase or statement that you use to affirm the way you want to live your life. Its purpose is to provide motivation and encouragement to you when you need to focus your mind to achieve a goal.  
Mantras have been utilized around the world for thousands of years. People use personal mantras to help them retrain their thoughts to focus on positive outcomes in order to reach their goals or transform the way they want to live their lives. Personal mantras can inspire you to achieve your greatest potential.
A mantra is intended to use your thoughts as a guide. It can help center your mind. The true value of a mantra comes when it is audible, visible, and/or in your thoughts. By repeating your mantra out loud or silently within your own mind, it can help guide your thoughts to the right frame of mind to achieve your goal or task. For example, before speaking publicly, you may say "I am strong and I can do this" or "I believe in me."
Examples of Personal Mantras
Your mantra can act as your personal slogan or philosophy. They can be words you want to live by. As a company has a slogan, you can have your personal slogan. Below are a few examples of company's slogans or mantras.
Nike – "just do it."
Kodak – "Share moments. Share life."
Sony – "Make Believe."
Harley Davidson – "American by Birth. Rebel by Choice."
Reebok – "I am what I am."
McDonalds – "I'm loving it."
Coca Cola – "Open Happiness."
Destiny's Odyssey – "Improving yourself, your performance, and your life."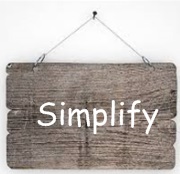 Your Personal Mantra
Your personal mantra can be used to guide you in the way you want to live your life. It can act as your personal philosophy. It can be a famous quote, proverb, saying, or it may be an impactful statement you create yourself. Below are some famous quotes people use as their mantra.
Quotes for a Personal Mantra
"We are what we think. All that we are arises with our thoughts. With our thoughts, we make the world." – Buddha
"You must have control of the authorship of your own destiny.  The pen that writes your life story must be held in your own hand."  – Irene C. Kassorla
"It takes courage to grow up and become who you really are."  – e.e. cummings
"It is better to be hated for what you are than to be loved for something you are not."  – Andre Gide
"Life is a daring adventure or nothing at all." – Helen Keller
"I am only one, but I am still one. I cannot do everything, but still I can do something. – Helen Keller
"The most important things in life aren't things." — Anthony J. D'Angelo
"I don't want to live. I want to love first, and live incidentally." — Zelda Fitzgerald
"Only a life lived for others is a life worth while." — Albert Einstein
"The purpose of life is a life of purpose." — Robert Byrne
"Life shrinks or expands in proportion to one's courage." — Anaïs Nin
"Life must be lived as play." – Plato
"It's never too late to be what you might have been." – George Eliot
"What you leave behind is not what is engraved in stone monuments, but what is woven into the lives of others." – Pericles
"We write our own destiny; we become what we do." – Madame Chiang Kai-Shek
"Our greatest glory is not in never falling, but in rising every time we fall." – Confucius
"Your living is determined not so much by what life brings to you as by what you bring to life." – John Homer Miller
"And in the end, it's not the years in your life that count. It's the life in your years." — Abraham Lincoln
"Be who you are and say what you feel, because those who mind don't matter and those who matter don't mind."  – Dr. Seuss
"Dream as if you'll live forever, live as if you'll die today." — James Dean
"Life is not measured by the number of breaths you take, but by every moment that takes your breath away." – Anonymous
"Try not to become a man of success but rather to become a man of value." – Albert Einstein
"A heart is not judged by how much you love; but by how much you are loved by others." — The Wizard of Oz
"In my beginning is my end." – T.S. Eliot
"Do not let what you cannot do interfere with what you can do." – John Wooden
"Do what you can, with what you have, where you are." – Theodore Roosevelt
Creating a Personal Mantra
Take some time to sit in quiet and think about what you want your personal mantra to be about. After you have decided what you want your philosophy to be, find a quote by someone else or create your own quote that represents that philosophy. Usually a short powerful statement is best.
Examples
"Live, Love, Laugh"
"Carpe diem"
"Yesterday is not today"
"I am the change"
"Live Simply",
"In me I trust"
"I can and I will"
"I write my destiny"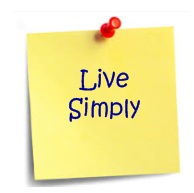 After you have decided on your personal mantra, write it down and read it frequently. Setting some time aside each day to truly absorb your mantra is the best way for it to become part of who you are and how you live your life. Use it as a reminder to stay true to what you truly feel inside. Use it whenever you start to doubt yourself, wonder whether you are capable of achieving your goals, or just want to keep your life heading in a positive direction.